I
I am
I am I
And always will be
I
Anja Allmanritter … that's me…
I'm a married mother of two children, born in 1970 and a real "Kowelenzer Schängelche",
I was born in Koblenz, the city where the Rhine and Moselle converge – I also live in Koblenz, where in addition to the "Deutsches Eck", the "Festung Ehrenbreitstein", the so-called  "Schängelchen" at the town hall and a lot of other sights, there are also great people to discover.
 In my first life as a lawyer, I enthusiastically practiced my learned profession for more than 25 years, until
PARKINSON
entered my life and after a few years has forced me in early 2021 to
retire from active working life.
What sounds so sober was a special challenge for me – as after all, people need a task in life.
Fortunately, I'm always busy with my family and home. And due to the inevitable "deceleration" in Parkinson many things simply take much more time until they are done. That's why I always have too little time for everything that has to be done at home.
But that's still not enough for me in the long run. This realization has led me to rededicate myself to a rediscovered passion – in the truest sense of the word: PRESCRIBED – WRITING, what I have loved since my youth, but never lived out for myself.
 WRITING, this wonderful opportunity to give a voice to one's own thoughts, dreams, fears, needs and feelings and to express things through poems, stories or songs, because that's less difficult than to talk about it in personal conversations.
In the beginning, my writing was really just about leaving something of me to my children, because I was afraid I wouldn't see them growing up.  This fear was really great even if I knew that PARKINSON wouldn't let me die right away.
 In a second step, I discovered my poems and stories as a medium to reveal my illness, wherever the right words in a conversation did not want to come across my lips otherwise.
So one thing led to another, WRITING became more and more aid for me in dealing with my illness. By chance, I discovered the so-called "Creative WRITING" for myself at the beginning of 2021, and today I WRITE for myself, but also in (fixed) groups with growing enthusiasm.
At such a "WRITINGworkshop" I was asked what meaning writing has for me and I remembered the following sentences about it:
The opposite of writing for me is …
If you want to know what the opposite of writing is for me,
then I say it would be
…  like a big nothing,
… how a person without a face,
… like a forest without trees,
… like a world without sounds,
… like a car without an engine,
… like a pond with fish that lack fins,
… like a life without emotions,
… like peace on earth without people,
… like a drug rush with joints of dried straw,
… like a human shell without soul and heart,
because writing in itself is like a gateway to all worlds for me.
All texts used on this and the following pages are protected by copyright. If you want to use these or parts of them, please contact the author – anja@gezittert-gereimt.de –
– a text by Anja Allmanritter, Koblenz
By the way, the main advantage of my passion is that
PARKINSON and (free) WRITING harmonize well with each other –
I can write my texts freely, without pressure or stress, at my pace, at my time, with the breaks necessary for me, no matter how long it takes – written (almost never!), typed (almost always) or dictated (more than often).
In addition, it demands intellectually (not only, but also with English lines), it requires and promotes concentration, practices hand-eye coordination and motor skills, the voice (when reading aloud) and strengthens self-confidence when in the end a hopefully great result is finished on paper.
All in all, a good combination –
WRITING for PARKINSON's disease, I believe.
And if your own texts then address other people, touch them and at best bring them a little further themselves, then …
… then it also warms my own soul and gives me the feeling that despite PARKINSON still "something is going on" in life.
True to the motto: "Something always works!" – that's what I believe in (some days more than others 😊), that's what I live for (at least try more or less successfully) and that's why I WRITE –
Anja Allmanritter
–
for me, for you and hopefully for many other people who may find themselves in one or the other text of mine!
No one has to cope with me/you and my/your way of life, …, no one but me/you.
My Writing Blog
Aktuelles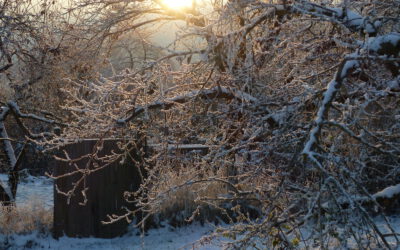 Irgendwann, irgendwo, in einem MärchenZauberWald. Ich stehe zwischen kahlen Bäumen und staune. Woher kommt der Nebel? Und das gleißende Licht? Alles um mich herum verheißt das Kommen einer heiligen ZauberZeit. Irgendwann, irgendwo, in einem MärchenZauberWald. Ich...
Adresse
Legiastr. 71 56073 Koblenz